The 3rd annual Western Regional Angel Summit will engage local Angels as well as Angel investors from other parts of Canada and the US that share similar experiences. This is a unique opportunity to connect and build collaboration in the early-stage capital ecosystem in the Western Provinces. The Regional Summit is your chance to be part of these connections and to get ahead of the emerging trends that are shaping Angel investment in Western Canada.
Network with experienced investors, incubators, accelerators, venture capitalists and other industry leaders
Create greater connectivity in the early-stage capital community
Build new relationships while strengthening existing ones
Develop a higher level of knowledge and skill from the NACO Academy investor education programs
Showcase the Victoria innovation community and gain exclusive early access to Discover Tectoria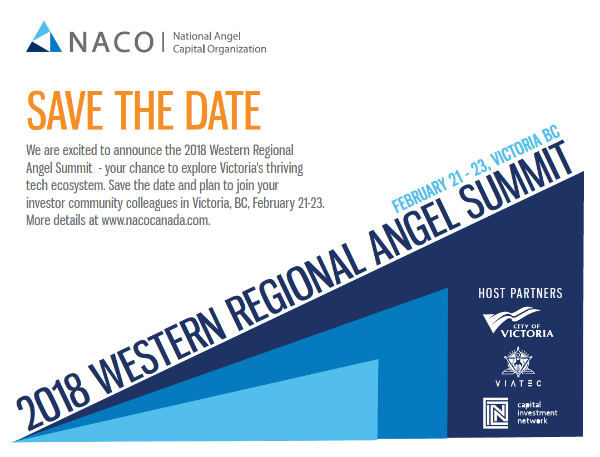 Preliminary Summit Agenda
Wednesday, February 21

8:30 am - 11:00 am:
NACO Academy Workshops
Module 103: Adding Value through Due Diligence
Module 210: Digital Tools for Angel Investors
Module 304: Best Practices for Angel-Backed Companies

11:15 am - 12:00 pm:
There is Something in the Water in Victoria: Local Success Stories

12:00 pm - 1:45 pm:
Lunch, Announcements from RBC & CIN, Keynote Address

1:45 pm - 2:15 pm:
NACO 2016 Ecosystem Report Announcement

5:30 pm - 7:30 pm:
VR Happy Hour Reception (The Robert Bateman Centre)
Thursday, February 22

8:30 am - 9:30 am:
Breakfast & Keynote Speaker

9:30 am - 12:00 pm:
Accelerated Walking Tours

1:30 pm - 4:30 pm:
Optional Tour - details and registration TBA

6:00 pm - 9:00 pm:
Dinner & Networking (Harbour Air Terminal)
*Friday, February 23

8:30 am - 10:00 am:
Breakfast & Keynote Speaker

10:00 am - 11:00 am:
Exclusive Access to Discover Tectoria
*Discover more Tectoria
The first 75 accredited investors to register on eventbrite and stay for Discover Tectoria on Friday, February 23rd will be reimbursed for your standard room* accommodation on Wednesday, February 22 and Thursday, February 23 following your stay! Compliments of VIATEC, City of Victoria, and Capital Investment Network.

*Up to $139.99 a night. Sign-in at Discover Tectoria is a requirement for reimbursement.
Date and Time
Wed, 21 Feb 2018, 8:00 AM –
Fri, 23 Feb 2018, 12:00 PM PST
Location
Victoria
Delta Victoria Ocean Pointe Resort
100 Harbour Road
Victoria, BC
Western Regional Angel Summit Sponsors & Partners
National Funding Partners
Interested in becoming a sponsor?
Check out our sponsorship package to learn more.